Meet the largest and most complete Médica Sur department, focused on health care with professionalism and commitment.
The Integral Diagnosis and Treatment Center is a set of specialized medical services, structured to detect people likely to develop diseases, as well as to detect, treat, and prevent at an early stage through knowledge of their history and risk factors, and in this way, expand their life expectancy and improve their quality of life.
Visit us on the first floor of the Annex building to the Hospital at our Médica Sur Tlalpan facilities (take the elevator to the 1st floor of the Imaging area), or contact us at: contactanos@medicasur.com.mx.
The CIDyT currently consists of top priority Clinics and Services in Médica Sur, which together seek to satisfy and meet the needs of each patient with the warmth and human quality that characterizes the institution.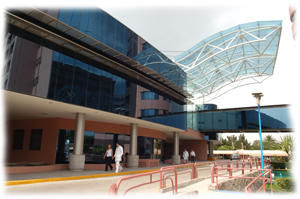 Check up: 9 specialists review

Specialties: Internal Medicine, Ophthalmology, Audiometry and Otolaryngology, Cardiology, Neurology, Odontology, Coloproctology, Orthopedics, Gynecology and Nutrition

Neurologic clinic

Neurovascular Check up
Neurovascular assessment: Carotid Doppler, Transcranial Doppler, MRI and Neurological Consultation

Geriatric Clinic, Comprehensive Vision of the Golden Age
Alimentary Behavior Disorders Clinic
Metabolism and obesity clinic
Foot and Ankle Clinic
Cardiology clinic

Diagnostic cardiovascular service
Resting electrocardiogram
Stress test
Echocardiogram: Transthoracic, Transesophageal, Pharmacological and Pediatric.
Preoperative Cardiovascular Assessment.
Holter study
Ambulatory blood pressure monitoring

Comprehensive Care for Women
Colposcopy Study, Gynecological service and Densitometry Studies.
Climacteric
Osteoporosis
Early Detection of Tumors and Lesions predisposing to cancer in women
Make an appointment with us
Telephone: +52 55 5424-7200 ext. 4172, 4173, 4174, 3000 and 3002
Monday to friday from 08:00 to 20:00 hrs. Saturdays from 8:00 to 14:00 hrs.

We are located at first floor in the annexe to the Hospital at our facilities in Médica Sur Tlalpan, México City, México, or you can e-mail us: contactanos@medicasur.org.mx
Visit: www.medicasurtlalpan.com.mx
Physicians at your service
M.D. Martha Elena Ramos
Head of the Comprehensive Diagnosis and Treatment Center